Finland Ice Marathon 2023
11.11.2022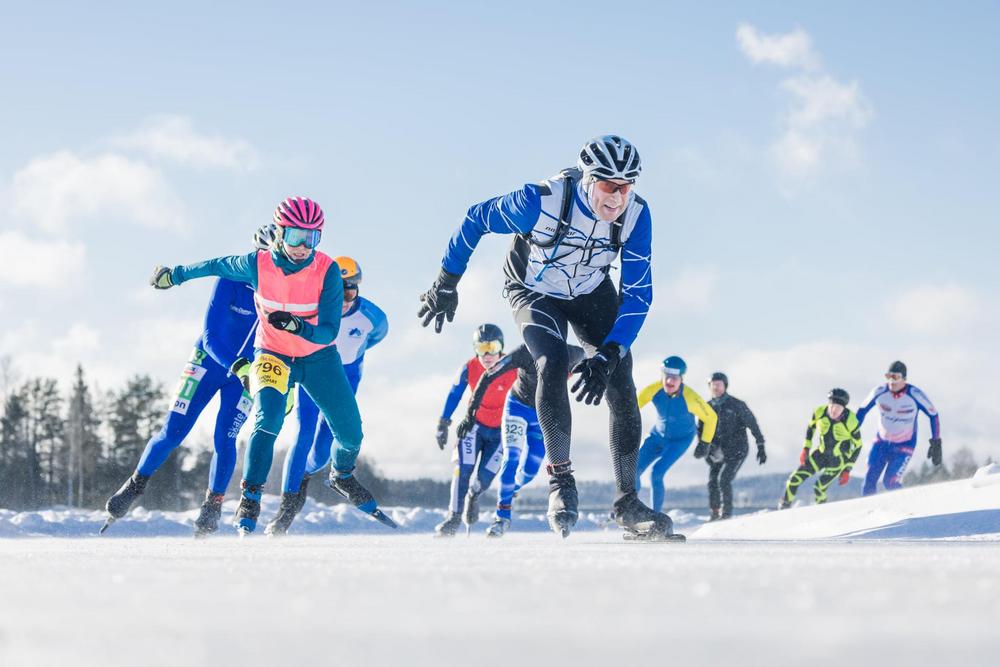 Finland Ice Marathon 2023 (FIN/ENG)
In English, see below
Kuopion suosittujen luonnonjääluisteluratojen kunnostaminen alkaa alkuvuodesta tai heti kun jäätilanne mahdollistaa sen. Tänä vuonna luisteluradat avattiin tammikuun loppupuolella. Toivotaan hyviä pakkasia myös tulevalle kaudelle!
Jäätilannetta päivitetään Finland Ice Marathonin (FIM) sosiaalisen median kanaviin ja myös nettisivuilla finlandicemarathon.com
Muutoksia lajitarjontaan – uusia SM-kilpailuja!
200 km luistelu jää pois tänä vuonna. Pisin luistelukisa on 100 km. Vuonna 2023 luistellaan myös 50 km SM-kilpailu!
Suomen Luisteluliiton myöntämät SM-kisat:
Luistelu 100 km ja 50 km (sarjat: M/N 40, 50, 60 v)*
*Osallistumisessa SM-kilpailuun vaaditaan luisteluliiton lisenssi ja luistelija voi osallistua vain yhteen SM-kilpailuun kerralla.
Luistelussa järjestetään myös 100 km ja 50 km TUPLAKISA, jossa yhdellä luistelulla voit osallistua kahteen sarjaan. Osallistumalla 100 km luisteluun, saat 50 km kisaan tuloksen väliajalla.
Vuoden 2022 tapahtumasta saadun palautteen perusteella liian monen lajin järjestäminen samaan aikaan ei ole osallistujien näkökulmasta riittävän turvallista, joten vuoden 2023 tapahtumasta jää pois nastajuoksu ja nastapyöräily.
Potkukelkassa houkutellaan uusia osallistujia tutun 50 km sarjan lisäksi 25 km sarjalla.
Sauvaluistelussa on kaksi sarjaa: 50 km ja 25km.
Jokaisen sarjan kolme parasta palkitaan!
Niin sanottuja kunto- ja kilpasarjoja ei enää ole, vaan jokaisen lajin kolme nopeinta palkintaan. Sarjat ovat yleinen miehet ja naiset. Luistelun 100 km ja 50 km SM-kisoissa on omat ikäsarjansa.
Palkinnot jaetaan ulkona tapahtumapäivän aikana.
Virallisista FIM-jatkoista kerrotaan lisää alkuvuodesta!
Lasten ja nuorten luistelut
Lasten minimaraton on leikkimielinen luistelukilpailu 6–10-vuotiaille. Nuorille on omia sarjoja 10 km ja 2 km luistelussa.
*
Finland Ice Marathon 2023
Kuutamoluistelu perjantaina 24.2.2023 klo 18 alkaen
39. Finland Ice Marathon kisapäivä lauantaina 25.2.2023
Ilmoittautuminen FIM 2023 kisaan avautuu perjantaina 18.11.2022
Finland Ice Marathon 2023
The maintenance of Kuopio's popular natural ice skating rinks starts at the beginning of the year or as soon as the ice conditions allow it. In 2022, the ice skating rinks were opened at the end of January. Let's hope good frosts for upcoming season!
The ice situation is updated on Finland Ice Marathon's (FIM) social media channels and also on the website finlandicemarathon.com
Changes to the sport offering
200 km marathon ice skating will be canceled this year. The longest skating race is 100 km.
We also organizes 100 km and 50 km DOUBLE RACE, where you can participate in two series with one skate. By participating in the 100 km skating, you will receive the result of the 50 km race in the interval.
Based on the feedback received from the 2022 event, organizing too many sports at the same time is not safe enough from the participants' point of view, so the 2023 event will not include stud running and stud cycling.
Kicksled: In addition to the familiar 50 km series, new participants are attracted to the 25 km series.
Ice skating with poles has two series: 50 km and 25 km.
Championship competitions awarded by the Finnish Ice Skating Association:
Marathon skating 100 km and 50 km (series: M/N 40, 50, 60)*
*Participating in the Finnish Championship competition requires a license from the Finnish Ice Skating Association and a skater can only participate in one Finnish Championship competition at a time. The right to participate in the Finnish Championship is available to all Finnish citizens who have a license from the ice skating association.
The best three in each series will be awarded!
There are no longer so-called recreational and racing series. The three fastest in each sport are rewarded. The sets are universal for men and women.
The 100 km and 50 km ice skating Finnish Championships have their own age groups.
Prizes will be awarded outdoors during the event day.
There will be more information about the official FIM Afterparty at the beginning of the year!
Children's and youth skating
Children's mini marathon ("Lasten minimaraton") in a playful ice skating competition for 6-10 year olds. Young people have their own series in 10 km and 2 km skating.
*
Finland Ice Marathon 2023
Don't miss out ice skating under moonlight. The rink will be decoretad with Finnish fire logs and picture-taking opportunities. Moonlight skating Friday 24th of February 2023 from 6 p.m
39. Finland Ice Marathon race day on Saturday 25th of February 2023
Registration for the FIM 2023 race opens on Friday 18th of November 2022